Interested in commissioning a portrait?  We would love to work with you!  Below is some information on our portrait procedure.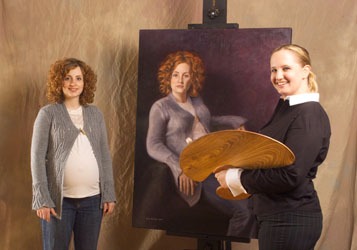 Our initial sitting is free of charge and includes the following:
Discussion of  your portrait goals
Meeting with the subject (if other than the person hiring the portrait) to get to know them and their personality
Discussion of portrait size, medium and prices.  Portrait prices start at $4500.
Deposit will be half of the agreed upon price
Selection of approximate time frame for completion (date will be finalized once initial deposit is paid)
Once you have paid your deposit, you can expect the following:
Your time slot will be reserved.
The more sessions we can have from life, the higher the quality of the portrait will be.  To ensure your satisfaction, we suggest a minimum of 3 live session when working from photos.
If the portrait is not being painted during live sessions, a photography session can be provided with accompanying fees.
We will plan and correspond together with you to come up with your perfect portrait.
For some complex or very large paintings, a drawing in the final size of the painting will be included in order to work out details of the design and an appointment will then be made to review the drawing together with you.  Any drawing changes must be made at this point.
Where appropriate–generally on larger paintings–we will provide a small color study. Once this step has been approved by you, we will then begin creating the final painting.
Shortly before the portrait is finished, we will meet together to discuss the portrait and to make any minor corrections.
If the subject has not been painted from life, a few sessions will be scheduled to make sure that we have captured the subject correctly.
When the final portrait is completed, the final payment is due.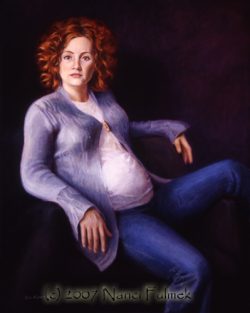 Additional options available to you:
Framing

The perfect frame can make a beautiful portrait absolutely exceptional.  We can finad a frame that fits your taste and budget, from a simple custom frame to a hand carved, gold gilded frame. We can help you select your own custom frame or, if you prefer, we can select one for you.

Additional artwork

Planning sketches, charcoal drawings, and color studies used during production of your portrait are available for an additional fee.

Giclee Prints

If you would like additional copies of your portrait, giclee prints are available for purchase. Price will vary depending on quantity and size.
Copyright:
The artist holds all copyrights to all images and print may NOT be made with out artist's approval.
Travel:
Additional fees may apply for travel if more then 1 hour outside of the St.Paul/Minneapolis area. We are open to traveling to all locations.